Level 7
While I was working in Germany, my workplace had a small English language library. It was mostly stocked with donations, containing what I estimate to be a few thousand books. Luckily for me, it had a sizeable science fiction section, with some authors dominating the collection (presumably favourites of the donors) and scores of out-of-print books from the 1950s to the 1980s. I had a lot of time to read, as I was living by myself in a foreign country and took the tram to work every day. So often on my lunch break, I found myself browsing through the science fiction section, essentially judging the books by their covers.
One thing interesting is the books never changed. Over a year of visits, there were never any new books in the science fiction section. I came to enjoy this lack of option paralysis. Books that I had earlier skimmed over quickly became prime candidates as I read my way through the section. As a result, I read many books that I wouldn't have given a second glance had I had access to the tome of a large public library. One such book was Level 7 by Mordecai Roshwald.
Level 7 is a speculative fiction novel written in 1959, not far after the start of the Cold War. It is about a military officer (whose nationality is never specified) that receives orders one day that require him to enter an underground complex. Shortly afterwards the complex is closed and sealed (to the surprise of the officer) and he is ordered to push buttons that he later learns was his direct participation in nuclear war. The whole war lasts about three hours and then the protagonist is faced with living the remainder of his life on the bottom (seventh) level of the underground complex.
This book is terrifying. I can't imagine reading it at the time of its publication, when its events were a very real possibility, at least more so than today. I can feel the claustrophobia setting in page by page, and with it, the anxiety of the inhabitants. As clues trickle in that reveal the state of humanity and the likely fate of the entombed survivors, it's clear that perhaps those who remained on the surface were the lucky ones.
Several years later I happened across the book at a used book store and bought it at once. Upon re-reading it, I fell into a kind of stupor that I recalled from my first time through. I don't know if I'll read it again.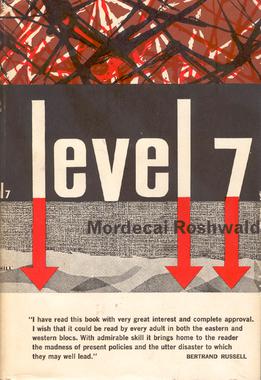 In some ways this story gives the most realistic picture of nuclear war that I have read in any work of fiction.
Linus Pauling